Visitors Online: 1

Featured Products
Flowering Vines
---
Many plants in their natural state rely on some kind of support to put forward their best performance called variously "Creeper or Climbing Plants". Climbers are Most rewarding to grow and can be used as a beautiful, dense screen or as a Background planting to other shrubs, perennials and annuals. They can be a Gentle tracery or filigree of stems in winter bursting into leaf and/or flower As spring`s influence is felt. Deciduous climbers are particularly valuable on Pergolas or trellises where their shade is as much valued in summer as is their Letting the sun through in winter.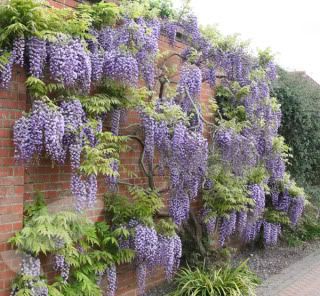 Most climbers need support. For example:- Wisteria, Flowering Passionfruit, Gelsemium and Jasmine typify climbers which will grow on and through a support. Still others develop roots along the stem which act as "suction pads" which attach them onto stone, brickwork, timber or adjacent plants. Your garden or home will most likely benefit from incorporating Some one or more climbing plants for special effect or to achieve a particular purpose.

The following list includes some of my favourite Flowering Vines:-
"Akebia Quinata" Or Chocolate Vine
A lovely semi-deciduous twining vine, also great as a delicate groundcover, the flowers are reddish to brown and have a sweet fragrance and a taste likened to the taste of chocolate in spring.

"Antigonon Leptopus" Or Coral Vine
A semi-deciduous vine with delicate strings of bright pink flowers in late summer and autumn, it has vigorous growth and is best if protected from heavy frosts. Ideal for fence coverage covering approximately 2m high and 3m wide. It can also be grown over an archway or a tree for something different.

"Allamanda Cathartica Schotti" Or Golden Trumpet Vine
A semi-deciduous vine with large golden bell shaped flowers in summer, ideal for positions protected from frost, great for pergolas or over archways, also for covering fences.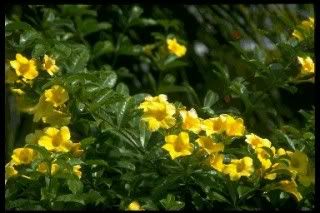 "Bauhinia Corymbosa" Or Butterfly Vine
An evergreen vine in sub-tropical conditions that can be semi-deciduous in cooler climates with older leaves dropping in cold winters, a beautiful vine with attractive and unusual foliage and small orchid-like flowers with unique 2 lobed leaves hints at its placement in the pea family. The pale pink flowers with dark veining are abundant from spring to autumn and are complimented by the purple tinged new growth, it is ideal for covering a pergola, fence or over a tree and is spectacular as a groundcover especially when in flower.

"Bignonia Rosea"
An evergreen vine with lavender/pink flowers in profusion over the spring and summer seasons. Plant in full sun and water occasionally during the warmer months of the year. In coastal gardens this beautiful vine will bloom for much of the year. Good also as a groundcover sprawling over rocks, even tolerating coastal sea spray. A rampant grower and can cover up to 2m high by 5m wide.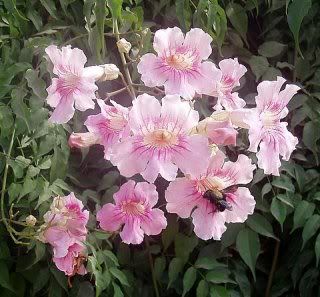 "Campsis Radicans" Or Trumpet Creeper
A hardy free flowering creeper with brilliant orange red trumpet shaped flowers in spring, easy to grow and is drought tolerant and is ideal for windbreaks, screens and fences. Trumpet creeper is one of the best vines for attracting birds to your yard as it produces quantities of nectar rich blossoms all summer long.

"Clerodendrum Thomsonae" Or Bleeding Heart Vine
A lovely spring flowering vine for frost free semi-tropical gardens. Requires a sunny well drained position, and produces terminal panicles of pure white flowers with central crimson corollas, with cover approx 3m high by 3m wide. There are now new varieties with different coloured flowers.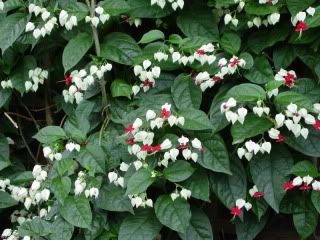 "Clerodendrum Splendens"
An evergreen spectacular spring flowering climber, well suited to a sub tropical garden, bearing brilliant flame coloured clustered flowers in spring. Requires a semi-shaded to sunny position and is ideal for covering a pergola, over an archway or along a fence.

"Chonemorpa Fragrans" Or Climbing Frangipani Vine
A stunning climbing vine flowering profusely with pure white flowers with yellow centres and a delicious rich fragrance, which deceptively resemble the amazing frangipani flower. It is a vigorous climber once established and is great for covering archways, pergolas or trellis, over fences and up trees, I believe it is a delightful addition to any garden.

Cydista "Aequinoctialis" Or Garlic vine
One of the most rewarding of all flowering vines that you can grow in your garden, interestingly enough it smells just like garlic. However, it doesn't smell if the plant is left alone, only when the leaves are crushed. Flowering twice a year you will find it quite often covered with flowers, which start off purple and change to a lighter shade of lavender with age, eventually fading to almost white. Garlic Vines can be grown in containers and should be trimmed after flowering.

"Dipladenia Sanderi" Or Brazilian Jasmine
A very attractive climber, with wonderful trumpet like flowers, ideal for a semi-tropical garden and can cover 2m high by 3m wide. Now there is a great new selection of Dipladenias including 'Little Red Riding Hood' and bright pinks and pale pinks.

"Gelsemium Sempervirens" Or Carolina Jasmine
A fast growing climber with bright yellow bell shaped flowers from autumn to spring, ideal for covering fences and trellis, can also be grown successfully with other different climbers.

"Hedera" Or Ivy
There are many different varieties of Ivy now available in plain or variegated leaf forms, grows well in any conditions and will also grow in sun or shade. Great for covering fences, creating a hedge effect, also will grow over sheds or walls, clinging to the surface with tentacles.

"Hardenbergia Violacea" Or Purple Coral Pea
An evergreen Australian Native vine flowering in late winter and early spring with mauve & purple coloured pea shaped flowers, it is vigorous and very hardy and will tolerate some shade.

"Hibbertia Scandens" Or Snake Vine
An evergreen native and very hardy, rapid growing vine or groundcover with bright yellow round flowers in spring, grows in most situations even over fences and will cover an area of 1.5m high by 2m wide.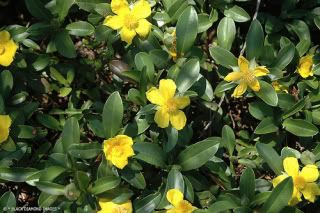 "Ipomoea Brigsii" Or Cardinal Creeper
The most beautiful of all creepers, with its rich green leaf with magenta crimson bell flowers. It is evergreen and blooms from late winter to early spring. A very difficult plant to propagate, making it not easy to obtain and therefore is mostly a little more expensive that common creepers. Cardinal Creepers will cover a fence 3m high by 4.5 m wide or like mine it will climb a pole and cascade to the ground looking spectacular.

"Jasminum Polyanthum"
An evergreen spectacular vine with masses of fragrant white flowers, from pink buds in spring. A vigorous climber and possibly the commonest vine grown, ideal for the perfumed garden and can cover a fence 2 m high by 2.5m wide, also is great over trellis or pergolas.

"Lonicera" Or Honeysuckle
An evergreen flowering vine, with several varieties available of which japonica is a particular popular flowering, vigorous climber, flowers are produced in late spring and sometimes sporadically through summer, great for covering sheds, fences or over trees.

"Pandorea Jasminoides" Or Beauty Vine
An evergreen Australian native bushy, twining, woody stemmed vine with pinnate shaped leaves, produces masses of fragrant funnel-shaped white to pink flowers with deep pink to maroon throats in Spring and Summer, followed by large elliptical fruits containing many seeds, Pandorea is slow growing at first, but will cover a reasonable distance once established.

"Pandorea Pandorana"
An evergreen Australian native vine, free flowering with smaller bell shaped flowers produced in early spring, a very vigorous vine and will grow in semi-shaded or sunny positions. Some new varieties now grown include Snow Bells which was the '1982 Vine Of The Year', with its creamy white flowers, also Ruby Bells with burgandy cream flowers and Golden Bells with golden flowers.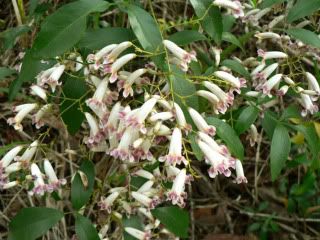 "Pyrostegia Venusta" Or Golden Shower
An evergreen, vigorous quick growing climber, with masses of tubular brilliant orange flowers in clusters from late autumn to the end of winter, it can cover a fence 2m high by 3m wide in no time and looks magnificent climbing over a large tree or high fence with its cascading effect that looks just like an orange blanket. I often refer to it as the ôDunny Vineö and most gardeners my age know which vine I am referring to, as when we were kids our grandparents used to have them growing over chook pens, out houses and sheds.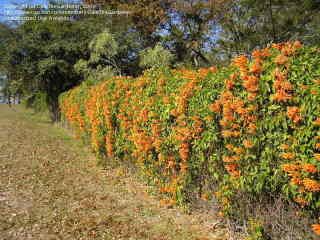 "Passiflora Coccinea" Or Red Flowering Passionfruit
An evergreen vine with stems that are very slender and smooth with a red to purplish hue. The leaves have large lobes and sport soft red to brown hairs, this free flowering vine has Red Passion flowers which are outstanding, bright scarlet red with white, purple, and light pink colours on the corona, it grows rapidly over pergolas or sheds and will cover a fence.

"Petrea Volubilis" Or Purple Wreath Vine
A vigorous semi-deciduous vine, with simple leaves, opposite and rough to the touch like sandpaper, giving it another common name as the ôSandpaper Vineö. Flowers are in pendulous racemes in late spring. Each flower has 5 purple or lilac-coloured sepals, spreading out star-like and these surround the purple corolla. The sepals are persistent fading to grey with age and eventually form the wings which assist in seed dispersal, needs to be protected from frosts and will cover a fence.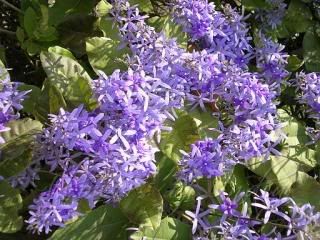 "Stephanotis Floribunda Vine" Or Madagascar Jasmine Vine
An evergreen vine with handsome dark green leathery leaves, Stephanotis has the most wonderful starry white blooms and delicious perfume. It's often used by florists in bridal work, because of its attractiveness, and even as a stand-alone bouquet, it's easy to grow at home and is great for adding a sense of presence and perfume to the garden.

"Trachelospermum Jasminoides" Or Star Jasmine
An evergreen vine with clusters of fragrant star shaped white flowers in late spring, a slow grower until established, then a vigorous fast growing vine which can be shaped or trimmed, making it ideal for trellis, over pergolas and also growning over fences as a hedge effect, covering 2m high by 2m wide, it is also a great groundcover for steep sloping banks.




"Wisteria Floribunda And Sinensis"
A deciduous rapid growing climber with drooping racemes of fragrant flowers, the most commonly grown variety is the mauve variety, but white and pink flowering varieties are now also available as well as the new double flowering varieties. Wisteria can cover a fence 2m high by 6m long as well as it is fabulous over pergolas, trellis, entrances, carports and outdoor areas. Wisterias can also be trained as topiaries for pots etc.

---
All Rights Reserved ę 2008 Junction Hill Nursery
Powered by DIYeStores.com - a DIY Website Builder
Total Website Visits: 158939