The glory of autumn foliage from the hundreds of tree varieties introduced to Australia is only one good reason to grow deciduous trees. They are valuable for much more. Many think that the somewhat psychological effect of leaf fall is comforting, a signal to the big provider to gather all together to face the shorter days and the longer nights. *****
A Magical Maple tree in Autumn

And then there is the awakening.
The trees know before us of the impending spring. The bare trees of winter, stark but beautiful are so valuable, also because they are an element of change to the scenery.
They also provide the wanted shade for summer gardens and then again they let through the much needed winter sunlight to benefit lawns, garden beds and outdoor living spaces during winter.
Yes, deciduous trees are important, most tending to lose their leaves once a year only. That once a year clean up is certainly worthwhile when you weigh the other advantages.
VARIETIES
Listed below are some great varieties which grow well:
ACER
The Japanese Maple or (Acer Palmatum) is a small tree with small lobed green leaves, with spreading growth and beautiful autumn foliage and it grows to 5m.



A mature Japanese Maple



But there are now many new varieties that have more compact growth or can be pruned to shape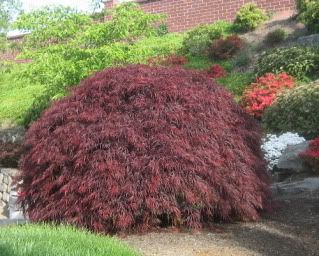 ASHES
The Golden Ash or (Fraxinus Aurea) is a medium sized tree to 7m with beautiful golden autumn foliage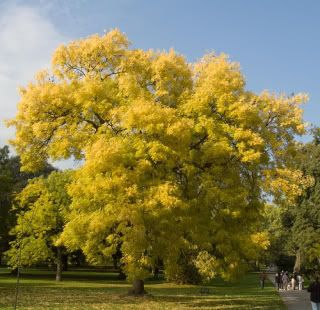 .
Claret Ash or (Fraxinus Raywoodi) is a strong growing tree to 10m with brilliant claret coloured autumn foliage.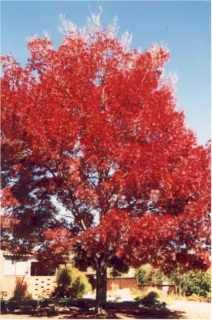 The Evergreen Ash or Fraxinus Griffithii is one of my favourite shade trees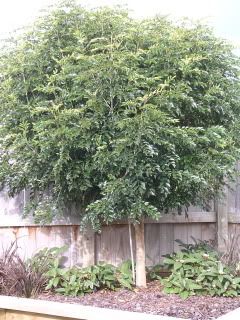 BIRCH
The Silver Birch or (Betula pendula) is a medium size tree known for its silver bark.



And gracefull pendulous branches,

they are attractive planted in groups or as an avenue, they usually grow to about 8m in Sydney area.
LIQUIDAMBER
These are one of the most colourful trees growing around the Grafton area. With brilliant red, orange, gold and yellow leaves in late autumn,



Liquidambers look fantastic grown as a screen or as an avenue or entrance to a property or just as a specimen tree in your garden.
OAKS
The Pin Oak or (Quercus palustris) a beautiful large tree to 13m with indented leaf margins, downward pointed branches, brilliant orange autumn foliage,



PLANES
Oriental Plane tree or (Platanus orientalis) will grow to 25m and has large deeply cut leaves, lovely trunk and seed cases hanging three to a stalk, great shade tree.



London Plane Trees look magnificient as an entrance or an avenue leading up to a property
WILLOWS
The Weeping Willows or (Salix babylonica) are large graceful trees with pendulous branches, quick growing and strong , grows to 13m.



Also Golden Willow or (Salix alba Tristis) is an elegant tree with weeping golden branches, also strong and fast growing to 13m.



The Tortured or Corkscrew Willow grows about the same size as a Weeping Willow but its branches are all bent and curly and they do not weep, I find them very interesting and the branches are often used in Floral Art and Flower Arrangements.